About Smack Dab
Eleven days, thirteen clues, and one kid who won't give up.
In Smack Dab in the Middle of Maybe, 12-year-old Cricket and a field cricket named Charlene find adventure in an overgrown ghost town in Electric City, Mississippi. They follow a thirty-year-old clue trail left by an eccentric artist in search of a secret room that may or may not exist–all to try to win back Cricket's run-away mother. Cricket must use her wits and just a smidgen of luck to live off the land in a Mississippi winter and put together the pieces of an increasingly baffling puzzle. As she works toward uncovering the final clues, Cricket meets the reclusive last resident of the ghost town, enlists the help of a poetry-loving dog, and takes up a touch of grave-robbing.
The true stories behind the story
The idea for Smack Dab in the Middle of Maybe began when I lived in one of the few remaining houses in the ghost town of Electric Mills, Mississippi. Electric Mills was the site of one of the first electric lumber mills in the country and, in its heyday, was called the brightest town south of St. Louis. The town had its own theater, teaching hospital, ice cream parlor, schools, and church. It even had its own currency–the Doogaloo. When all of the timber was harvested, most of the buildings in the town were sold off, but a few structures remained.
Growing up, I spent a lot of time exploring the woods and the old ghost town. I was intrigued by the thick concrete sidewalks that wove through woods, overgrown gardens at the old home sites, and scattered concrete pillars that had once held up large homes. I made up stories about the people who lived there.
For inspiration for the art mystery, I drew upon the art of my favorite artist, Walter Inglis Anderson, who, like the artist in Smack Dab in the Middle of Maybe, painted magical representations of nature and the world around him. He also left a few secrets behind. 
A life-long outdoor enthusiast, I've experienced first-hand how time spent outdoors changes your perspective. I wanted to allow my main character, Cricket, to experience this as she survived on her own in the woods and tried to solve a clue trail. Spending so much time outdoors helped her work through her conflicting feelings about her run-away Mama.
I spent years writing this book, talking to residents of the ghost town, camping in the woods, foraging for food, learning outdoor survival skills, and talking to friends about their complicated family dynamics.
The books behind the story
Two of my favorite books growing up (and to this day) are My Side of the Mountain and From the Mixed-Up Files of Mrs. Basil E. Frankweiler. I admire how My Side of the Mountain drew readers into the natural world and made surviving in the wild a quest of its own. I love how From the Mixed-Up Files of Mrs. Basil E. Frankweiler immersed readers in the intriguing setting of the Metropolitan Museum of Art and drew them into an art mystery. I challenged myself to combine those two elements—outdoor survival and an art mystery–together in one novel.
What's the best thing about growing up in a small town?
Many things. You know almost everybody, almost everybody knows you, and you have plenty of room to go exploring.
Where I fudged
Although this is a work of fiction, I based it on the natural world in Kemper County, Mississippi. To serve the story, I changed a few things:
I moved up the time that bamboo shoots would likely appear in Cricket's woods.

I had the copperhead appear a few days after the sleet storm. Hibernating snakes typically will wait for a period of several warm days before making an appearance.

I set the fictional ghost town somewhat south of the real one to increase the likelihood that crickets could be heard in February.
Cricket refers to substance in the copperhead's bite as "poison," but it is actually referred to as venom.

Cricket thinks that Charlene chirps in order to call her family, but crickets really chirp to attract a mate.

If you see something else that doesn't look like it's accurate, let me know and I'll add it to this list!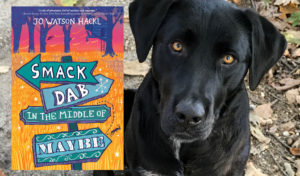 Hear more about Smack Dab!